Tazewell County
Advantages
Tazewell County offers many advantages for companies and corporations who are interested in expanding their business or are considering relocation to our beautiful region.  Take advantage of these opportunities and let us help you be successful!
01.

Large Workforce

With more than 20,000 workers in Tazewell County, and over 125,000 in the extended area, we have a deep workforce pool for all types of businesses
02.

Location

Route 460 and 19 run through the entire length of the county and both I-77 and the I-81 interstates are only minutes from our borders with I-64 also nearby.  This puts us less than a 12 hour drive from nearly 50% of the U.S. population.
03.

Higher Education

Our area offers access to a strong consortium of colleges, universities and training providers including Virginia Tech, Concord University, Bluefield College, Bluefield State College, Emory & Henry, Radford University, East Tennessee State University, King University, and the Virginia Community Colleges of Southwest Virginia, Virginia Highlands, Wytheville and New River.
Proven Success
The Numbers Don't Lie
The Tazewell County labor force is more than 20,000 with an extended labor force over 125,000.  We have a strong infrastructure, tremendous natural and recreational resources, and are located within one day's drive of the most populous states in the country.
U.S. Population Within 12 Hour Drive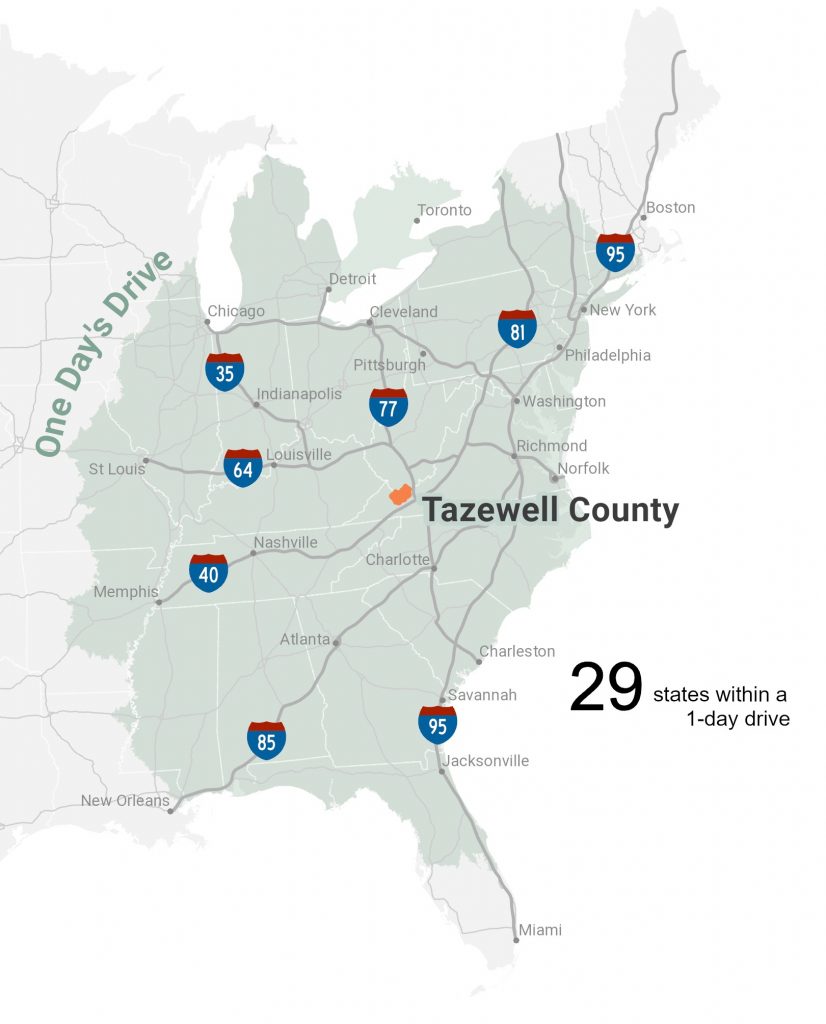 Higher Education
Respected, convenient and affordable education.
Strong Infrastructure
Virginia highways, access to nearby federal interstates, and multiple airports within a few hours drive.
Natural Resources
Local and regional natural and recreational resources.
Enterprise Zone
Enterprise zone and gateway to the e-region for electronic information technology, energy, education and emerging specialty manufacturing.
Funding Opportunities
Virginia Coalfield Economic Development Authority Revolving Loan Program and
Tobacco Region Opportunity Fund.
Large Workforce
Local and regional workforce including skilled and unskilled labor.